JUVÉDERM
Juvederm is FDA approved crystal clear gel made of Stabilized Hyaluronic acid. Hyaluronic acid is a natural substance that exists in the human body and is important in our skin hydration and plumpness. Juvederm is completely biocompatible and doesn't require any allergic testing prior to the injection. Juvederm maintains its shape using the body's own moisture.
It is not uncommon to observe collagen stimulation in the skin areas treated with the Juvederm. Juvederm comes in two formulations-Juvederm Ultra and Juvederm Ultra Plus. Juvederm Ultra Plus has higher concentration of Hyaluronic acid and used for larger/ deeper folds and the cheeks augmentation.
Juvederm has very smooth, silky consistency making it an ideal product for lip correction or augmentation and facial volume restoration. Juvederm can also be used for the nasolabial folds frown lines, smoker's lines, marionette lines, and scar correction. The results from Juvederm treatment last from 6 to 9 months and up to a year in some cases.
Juvederm is now available premixed with the anesthetic Xylocaine (Lidocaine) for painless injections and is called Juvederm XC. The procedure involves only very minimal, if any, discomfort. There is no specific aftercare required beside some local cold application. It is completely safe, and sometimes even beneficial, to combine Juvederm injection with other treatments like Botox, Sculptra, IPL, etc.
The adverse reactions are minimal and resolve over 2-5 days. The most common risks are bruising, swelling, and tenderness. Aspirin, Aleve, Ibuprofen, or fish oil supplements should be avoided prior to the procedure to prevent bruising.
Patients with a history of cold sores may need anti-viral medication for prevention. Visit the Juvederm™ Photo Gallery. Call us to arrange your complimentary consultation.
Before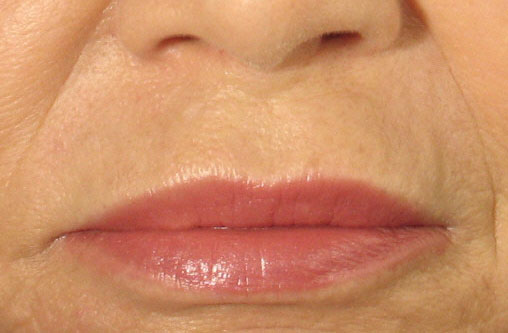 After
609 Plandome Rd. • Manhasset, NY 11030 • 718-357-2300